Optimal probiotic stability
Due to its very low moisture content, chocolate is an excellent medium for probiotic bacteria. Stability tests on strain B. lactis HN019™ in chocolate show almost equal counts of probiotic bacteria after 24 months at room temperature when compared to baseline.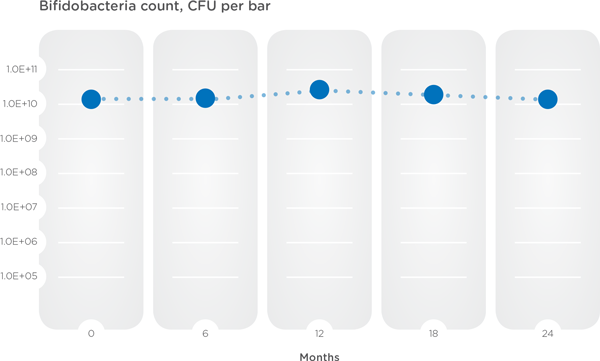 Better survival of probiotics in the digestive system
Chocolate medium contributes to a better survival of the probiotic bacteria in the aggressive conditions of the stomach and intestine when compared to other media.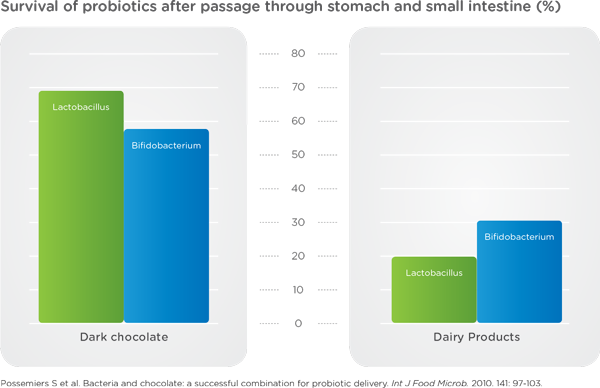 Synergistic action of probiotics and fibres from chocolate
probiotic bacteria feed on fibres from cocoa, which has a beneficial effect on their viability
probiotic bacteria metabolize polyphenols from chocolate to smaller molecules, which facilitates their absorption in the intestine and potentiate their effect
Finley J. (2014, March). Impact of the microbiome on cocoa polyphenolic compounds. Findings presented at the 247
th
National Meeting & Exposition of the American Chemical Society, Dallas, TX.
Health benefits of dark chocolate
beneficial in the prevention of cardiovascular events1
inhibits blood lipid oxidation2
lowers blood pressure3
causes vasodilatation4
decreases platelet aggregation5
reduces insulin resistance3
stimulates serotonin production, improves mood and boosts energy6
Better patient compliance
Patients taking multiple medications or food supplements can get "pill fatigue", while chocolate, as a delicious and convenient dosage format, promotes regular probiotic consumption.
Chocolate is an ideal solution for children as well as for people who have trouble swallowing tablets.
1
Zomer E et al. The effectiveness of dark chocolate consumption as prevention therapy in people at high risk of cardiovascular disease: best case scenario analysis using a Markov model.
BMJ
. 2012. 344: e3657.
2
Wiswedel I, Hirsch D, Kropf S et al. Flavanol-rich cocoa drink lowers plasma F(2)-isoprostane concentrations in humans.
Free Radic Biol Med.
2004. 37:411-21.
3
Grassi D, Lippi C, Necozione S, Desideri G, Ferri C. Short-term administration of dark chocolate is followed by a significant increase in insulin sensitivity and a decrease in blood pressure in healthy persons.
Am J Clin Nutr.
2005. 81:611-4.
4
Schroeter H, Heiss C, Balzer J et al. (-)-Epicatechin mediates beneficial effects of flavanol-rich cocoa on vascular function in humans.
Proc Natl Acad Sci USA.
2006. 103:1024-9.
5
Hermann F, Spieker LE, Ruschitzka F et al. Dark chocolate improves endothelial and platelet function.
Heart.
2006. 92:199-20.
6
Benton D, Donohoe RT. The effects of nutrients on mood.
Public Health Nutr.
1999. 2:403-9.